free in-store record release performance
MONDAY, FEB 20th @ 8PM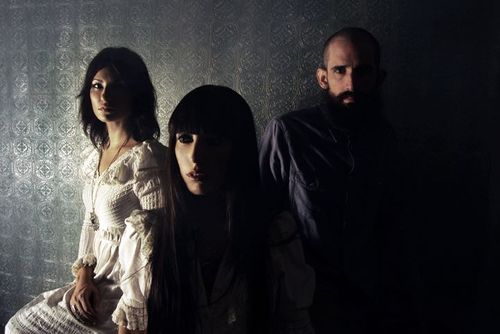 "Sera Timms' voice is a national treasure. It's a reverb-soaked choir of 4AD ghosts floating over scratchy guitars. Burzum scoring a spaghetti western. This stuff gives me chills."
—Cosmo Lee of Decibel magazine on IDES OF GEMINI

IDES OF GEMINI is a collusion of musical forces precipitated by the haunting and
inimitable vocal prowess of singer/bassist Sera Timms, also of Los Angeles dark-psych
alchemists BLACK MATH HORSEMAN. The compositions are the long-simmering
mental fallout of veteran music and film journalist J. Bennett (guitar/backing vocals),
who has spent most of the last 14 years writing for such publications as Decibel,
Terrorizer, Revolver, Alternative Press and Thrasher. The third and final corner of the
triangle is Kelly Johnston, whose martial drumming techniques and soaring backing
vocals literally brought IDES OF GEMINI to life as a performing entity.

Last year, Timms and Bennett recorded and self-released IDES OF GEMINI's four-song
EP, The Disruption Writ, which was anointed "My Favorite Demo of 2010" by the highly
influential music blog Invisible Oranges. Lyrically, the songs detailed the terrifying
permanence of dismemberment in all its unsettling forms: psychological, emotional
and physical. Musically, though? Someone on the Internet called it "dream doom."
Nobody likes to be pigeonholed, but IDES OF GEMINI will gladly take up temporary
residence in that particular nook for the sake of shorthand. Which is to say that "dream
doom" will do the trick for now. And now is nothing if not fleeting. Mostly because
IDES OF GEMINI are about to unveil their full-length debut, Constantinople, via Neurot
Recordings, the label owned & operated by members of the legendary NEUROSIS.