Vacation Vinyl will be opening an hour early at 10AM, and will close at our usual time of 9PM on Record Store Day this year. We have teamed up with a few labels to do some special giveaways while you're shopping, and we have some in-store DJs playing great music later in the day. Check the Vacation Vinyl Blog for updates on the RSD releases we are stocking this year!
Botch
An Anthology of Dead Ends 12"
The final will and testament of Seattle's best boy band ever, released just in time for the 10th anniversary of their final show. A collection so vital its grown 2 inches in 10 years.
180g vinyl on multiple colors. Full color old-school style tip-on single LP jacket, with heavyweight full color innersleeve.
Manner LP
Finland's indomitable Circle return with a dilating dose of NWOFHM/Avant-AOR. Limited vinyl album. 6 songs. 40 minutes. Their first on Hydra Head.
Housed in a classic full color die-cut DJ sleeve, the cover image of the eye is not fully realized until the record is inserted into the jacket with the LP label completing the iris. The vinyl colors equally match the aesthetic; we would tell you what they are, but we don't want to ruin the surprise.
Pelican
Australasia 2xLP
The instru-metal rock masterpiece that came to define a genre. Often imitated, never duplicated. Deluxe vinyl edition available for the first time on Hydra Head since the album's 2003 release.
180g double vinyl on multiple colors. Full color tip-on gatefold with full color innersleeve. This thing is so heavy you could probably hammer nails with it. Hint: track down the 'haze' vinyl color...we like.
GIVEAWAYS:
We have great give-away packs from a few labels we are friendly with including stuff from Sub Pop, Kill Shaman and from our good (best?) friends at Hydra Head. We will have free posters, signed prints, pins and patches. Special items also include full sized uncut and signed (by album artwork designer, Aaron Turner) production print sheets for Pelican 'Australasia' and Botch 'An Anthology of Dead Ends' that will be available for the first 20 customers of each album on Saturday morning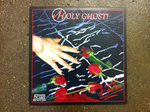 We will also have copies of Holy Ghost covering Ministry's classic "I Wanted To Tell Her" to give
away thanks to Green Label Sound and DFA.

AWESOME DJs WHILE YOU SHOP: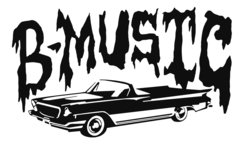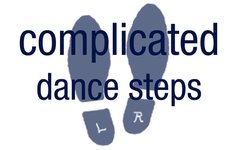 2-4pm will have DJ Mahssa representing Finders Keepers and B-Music!
4-6pm will have DJs curated by Complicated Dance Steps!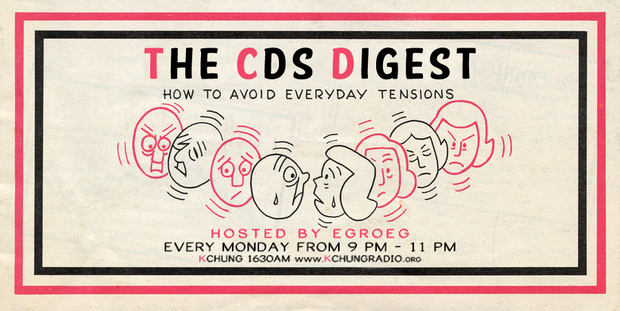 COMPLICATED DANCE STEPS DIGEST
CHUNG is a group of people who share their music, interests, ideas and personalities on the radio.

CDS Digest is a 2 hour music show that explores different genres of music and has special guest selectors on to discuss their records on occasion.

Hosted by Egroeg past shows have explored Synth records, Rock N Roll, Funk/Soul, and Love Jams.

Tonight's show of CDS Digest will be an all Metal Show. 86-88 Metal Blade Records will be played mostly.
---
DEMDIKE STARE on MAY 5th with
VATICAN SHADOW and TROPIC OF CANCER
at LOS GLOBOS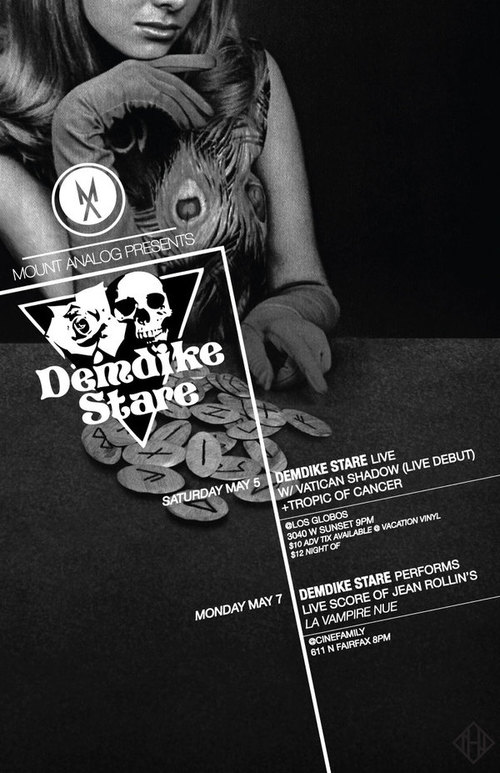 We are selling tickets to the Cinco de Mayo Demdike Stare show with openers Vatican Shadow and Tropic of Cancer at Los Globos. Advance tickets are available at Vacation Vinyl for $12 USD cash only. Get your tickets early to ensure entry.